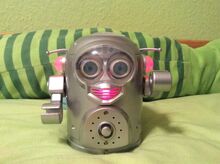 Space Robby is a Furby knockoff toy designed to look like a robot. There are several versions of Space Robby, and other furby robots, that all look pretty much the same with different color schemes.
Space Robby can walk and laser battle another Space Robby.
He can speak German,English and Japanese.
Space Robby I comes in two colors including silver and gold.