Q Sprite (also known as Cute Multi Function Elf) is a Furby Furbling knock-off manufactured by Jia Du Toys. They are referred to as Cute Multi function Elf on the English and Russian version of the toy, and are referred to as Q Sprite on the Chinese version of the toy. They were released in three different colors: pink, blue, and white. A white and pink version of the toy is also known to exist, however, it remains unknown whether if it is an unreleased color or not. Q Sprite has a phone strap attached to it with the word "smile" and happy faces on it. They can either have eyes that look like a Furby Furbling's eyes or eyes that look like a Furby connect's. Some have eyes which change when they are tilted or are viewed from a different viewpoint. Q Sprite can say the exact same phrases as a Furby Furbling when the top of its head is pressed, and unlike Furby Furblings, Q Sprite has its own app to interact with. Through the app, you can feed Q Sprite, get it to play music, and take a photo of it. There is also a virtual Q Sprite which can be interacted with in the app. When you touch the virtual Q Sprite, the Q Sprite toy will respond.
Gallery
Videos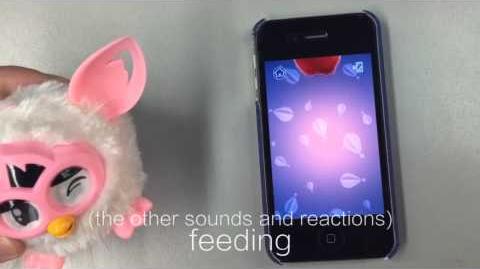 Ad blocker interference detected!
Wikia is a free-to-use site that makes money from advertising. We have a modified experience for viewers using ad blockers

Wikia is not accessible if you've made further modifications. Remove the custom ad blocker rule(s) and the page will load as expected.