Phoebe New Series
are knock-off toys that are part of the
Phoebe
series. The Phoebe series includes knock-off Furby Party Rockers and knock-off Furby Furblings. They are available in four 
different designs and colors.
The Fake Party Rockers 
The box of the fake Party Rockers mention that they can party with Phoebe, but the fake Party Rockers that can't communicate with the Phoebe. It is unknown if the fake Party Rockers have the voices of the real party rockers. The top of the fake Party Rocker box shows a wave pattern which is also shown ontop of the box for the Furby Boom which has waves as patterns on its fur. It is believed that they can perform the same functions as the fake Furblings can. Unlike the real Party Rockers, the fake ones have a white underside.
The Fake Furblings
The fake Furbling toys in Phoebe New Series have a very similar appearance to the real Furblings, and only come in four colors: light blue, dark blue, pink, and red. All fake furblings in the Phoebe new series have the same style of eyes, with green ears, feet, and eye frames. They have hangers ontop of their heads and like the real Furblings, their eyes change when viewed from a different perspective. They can mimic what you say when you pull their tails. Unlike the real Furblings, the fake ones have an on/off switch underneath.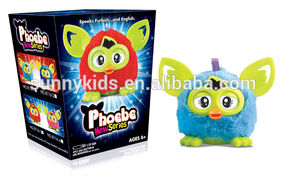 Gallery
Ad blocker interference detected!
Wikia is a free-to-use site that makes money from advertising. We have a modified experience for viewers using ad blockers

Wikia is not accessible if you've made further modifications. Remove the custom ad blocker rule(s) and the page will load as expected.