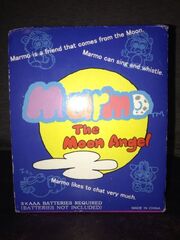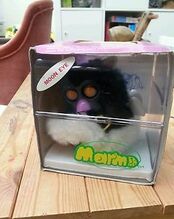 Marmo the Moon Angel is another Furby Fake. It has long colorful hair at the top of its head, kind of like a long mane. It has plastic feet and hands, with stretchy arms to allow it to hold onto things.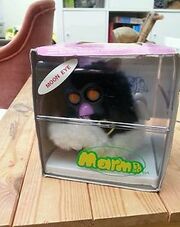 They come in 4 colors:("Moon Flower")Pink with yellow hair and purple eyes,("Moon Eye") Black and white, with purple hair and yellow eyes,("Moon Shine") Light brown, with grey hair and green eyes, and white with pink eyes. Each color has differently shaped ears. They are 4 1/2 inches tall, and come in a plastic case. There are 2 versions of the case , one with asiatic text next to the english word "Marmo", and one without. Marmo is wearing a collar with a key chain on it. The collar and the light sensor are made of a single piece of plastic, so it cannot come of completely. It only has 3 sensors : A light sensor, and a touch sensor on its head and inside its mouth. Its name may come from the word marmoset, a type of primate it somewhat resembles. 
Marmo has a very unique design, and is not the copied internals of a Furby covered in different skin. It also has its own language that has some French and Spanish words mixed in.
Ad blocker interference detected!
Wikia is a free-to-use site that makes money from advertising. We have a modified experience for viewers using ad blockers

Wikia is not accessible if you've made further modifications. Remove the custom ad blocker rule(s) and the page will load as expected.