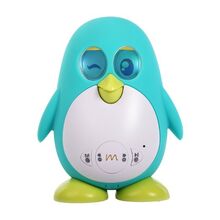 Marbo the interactive robot is a Furby 2012 fake that looks like a penguin. He is made by Seagle for the US market, Lexibook for the UK market, and Basall for the Portuguese market. He is manufactured by Shenzhen Artec Cultrue Technology Co., Ltd. He has voice recognition, like a 2005 Furby, and an iOS and Android app.
Voice commands
Hello.
How are you?
Nice to meet you.
What do you want to eat?
Dance for me.
Happy Birthday.
I love you.
Sing me a song.
What's your name?
You are lovely.
Can you swim?
Where are you from?
Kiss me.
Tell me a story.
How old are you?
Ad blocker interference detected!
Wikia is a free-to-use site that makes money from advertising. We have a modified experience for viewers using ad blockers

Wikia is not accessible if you've made further modifications. Remove the custom ad blocker rule(s) and the page will load as expected.