Herbie is a 1998 Furby knock-off.
Appearance and Functions
Herbie stands around 5.5 inches tall, and they come in 4 colors : brown, black, violet, and gray. Herbie has its eyes and beak embroidered onto its face. It has a motion sensor and a light sensor on its belly, which makes Herbie say phrases if you cover it or shake him. According to its box, Herbie can say up to fifty-four phrases.
Trivia
Another version of Herbie exists, however, not much is known about it. This version doesn't seem to have a light sensor, either.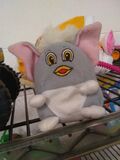 Gallery