Hasbro, Tiger Electronics, and Warner Bros partnered up to introduce the Gizmo Furby. It was predicated on the film series Gremlins. They're relatively hard to find at a decent price. Over 250,000 exist.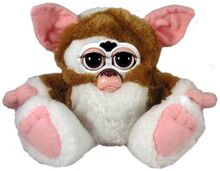 Trivia
The Gizmo Furby is more specifically based off Gizmo from Gremlins, who is a mogwai.
The Furby fake Baby Brainy and Gizmo Furby have striking resemblances.
The Gizmo Furby was voiced by Howie Mandell, who's also the voice actor of the actual Gizmo from Gremlins.
Gizmo Furby's have unique dialogue, and speaks all English.
The Gizmo Furby's eyes look different compared to a normal Furby's eyes. Furby's eyes are doll-like, while Gizmo Furby's have more of "cutesy animal" eyes.
Videos

Ad blocker interference detected!
Wikia is a free-to-use site that makes money from advertising. We have a modified experience for viewers using ad blockers

Wikia is not accessible if you've made further modifications. Remove the custom ad blocker rule(s) and the page will load as expected.