The
Gigabot
is a
Furby fake
which takes on the design and appearance of a robot. The Gigabot acts like a
Furby
, but has a totally different language of its own.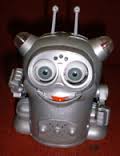 Appearance
The Gigabot is a Furby fake that has feet-like cups, two arms which move, and two antennas just like Robonagi and his remake, Bulinagi. He can come in either silver or gold, and he has a speaker on his tummy, with two useless bumps and a button. His beak looks like steel lips, and he has no eyebrows. All Gigabots have gray eyes. He has 3 holes above his eyes, one is an infrared receiver, the second one is an infrared sender, and the third one is another light. Behind the Gigabot is an attached backpack; this is another item it shares with Robonagi. Also, Robonagi makes sounds similar to that of a Gigabot's. Some people even say that its voice sounds like the voice of a circuit bent Furbish.
Trivia
The Gigabot looks quite identical to the Space Robbies.
Ad blocker interference detected!
Wikia is a free-to-use site that makes money from advertising. We have a modified experience for viewers using ad blockers

Wikia is not accessible if you've made further modifications. Remove the custom ad blocker rule(s) and the page will load as expected.