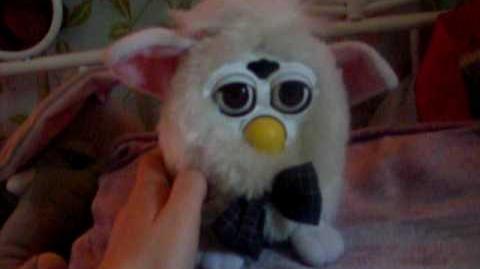 Furdy
(otherwise known as
Fofito
according to the Spanish version of the toy) is a poor quality knock-off 1998 Furby which was manufactured by an anonymous company in China. 
Appearance
Furdy's appearance is exactly like a real 1998 Furby design-wise, though noticeable differences include the denim bow-tie sewn onto some Furdys, and the bright yellow coloring of Furdy's beak. Furdy comes in the colors of Skunk, Leopard, Church Mouse, Snowball, and a rumored all-pink variation. All Furdy dolls have brown eyes, and on the underside of each Furdy, you will see the Furdy logo.
Trivia
Its voice appears to be exactly the same as Baby Brainy and many other knock-off Furby's.
Gallery