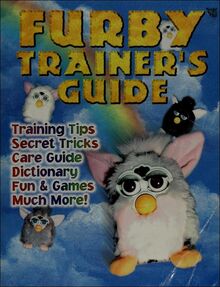 The FURBY TRAINERS GUIDE is an unofficial "Strategy Guide" for the original 1998 Furby Line written by Douglas J Arnold.
The book covers the original Furby Line and gives tips, tricks and more on the line.
The book received mixed reviews on release.
Sequel
A sequel, called the "OFFICIAL FURBY TRAINERS GUIDE" was released in 1999 with updated tips, tricks and the inclusion of Special Edition adult furby toys as well as the newly launched Furby Babies. Due to the sale success of the first book, Tiger Electronics was impressed and allowed the sequel to carry the "official" word in the title.