This page is for the Crystal Series Furby Furbling Toys. For the digital app version, click on Crystal Furblings.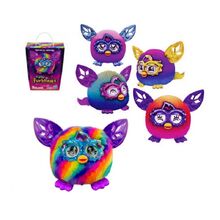 To go along with the Furby Boom!: Crystal Series, Hasbro created Furblings to go with them. They function identically to the regular toy Furblings, but have the unique crystal features and colors of Furby Boom!: Crystal Series and different sounds and phrases. They can interact with crystal or regular Furby Booms.
Phrases
(Tarzan sound)
(giggling) Doo-loo lee-koo!
(crying)
Peek-a-Boo!
(singing)
Yeeyeeyee yeeyee yeah!
Wee-tah wee-loh?
(farts and giggles)
Bay-bee! (giggles)
(giggling and hiccuping)
Dah...dah...dah-way!
(purring)
Dee-doo-ba-dee-dee, ba-doo-bah-dee
(hiccuping and burping)
(singing)
Uh-oh....ay-way....
(coughing and sneezing)
Noo-loo bay-bee!