Furby Fans Forums was founded in 2012 by ccrogers15. The site was originally active from July 2012-March 2014. On March 20th, 2016, the site finally reopened after a two year hiatus.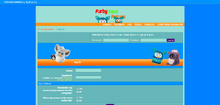 After being hacked by former moderator NooLoo64 due to a disagreement between ccrogers15 and NooLoo64, the site was purged of all posts, nooloo64 was banned, and the site was closed for posting. All former users could still log into the site and view archived posts, but the forum itself was not open to posting.
At its peak, the user number was 140 total registered users, making it the second largest Furby Forum on the internet, following Adopt A Furby.
Reopening and closure again
Furby Fans Forums reopened on March 20th, 2016, will new moderators, logos, sections and ownership. The forum has a new url that has been purchased, but not linked yet due to Go Daddy technical problems.
On April 1st, it was decided to go back on the original plan to reopen the forum. Instead, FFF will remain closed due to inactive users.
Ad blocker interference detected!
Wikia is a free-to-use site that makes money from advertising. We have a modified experience for viewers using ad blockers

Wikia is not accessible if you've made further modifications. Remove the custom ad blocker rule(s) and the page will load as expected.