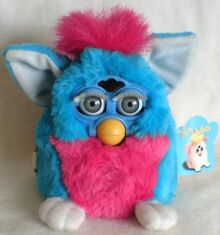 In 1999, the Furby Babies line was introduced. Furby Babies are smaller than the original, have higher voices, and cannot dance, but they switch to speaking English more quickly. They also have an extended vocabulary and different "Easter eggs" and "games" built into them. Furby babies come in 24 different colors, with one special edition. All have white eyelashes and one of 5 different eyecolors.a
Other Variations
In 2006, a new version of Furby baby was released, with most notable features being the new look and a more "baby-ish" appearance in contrast to the
Emoto-Tronic Furby adult.
They also have considerably fewer features than the "adult" Furby, with a very limited vocabulary and a lower level of interactivity. Another notable feature of the 2006 Emoto-Tronic Baby Furby is the movable "legs" which unfurl when Furby baby is awake. Although they were a European exclusive, they were sold in the US via the Hasbro Toy Shop website.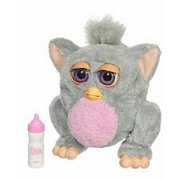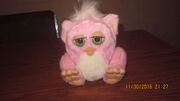 >/span
On February 14, 2013, Furby Party Rockers were released. Though many fans considered these the furby babies of generation 3.0, virtual Furblings were confirmed afterwards. in 2014, small plush versions of Furblings were released. For more on these, visit here.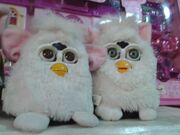 Gallery
Ad blocker interference detected!
Wikia is a free-to-use site that makes money from advertising. We have a modified experience for viewers using ad blockers

Wikia is not accessible if you've made further modifications. Remove the custom ad blocker rule(s) and the page will load as expected.