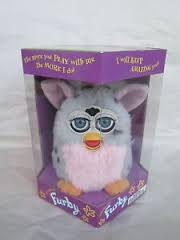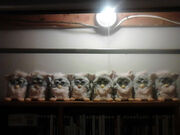 Leopard is the name given to a Generation 1 1998 Furby. It has a tail and a tuft, the tuft and tail are pink, and he has grey fur with black spots on it. It is the first in a long line of different coloured leopard Furbys to be released.
This one is by far the easiest Furby to find; as seen in the photo, the collector who took the photo has 8!
Trivia
This is probably the most famous Furby. It has been used in a lot of advertisements.
No two Leopard Furbys are identical. Each one has different spots in different places.
Videos
Ad blocker interference detected!
Wikia is a free-to-use site that makes money from advertising. We have a modified experience for viewers using ad blockers

Wikia is not accessible if you've made further modifications. Remove the custom ad blocker rule(s) and the page will load as expected.