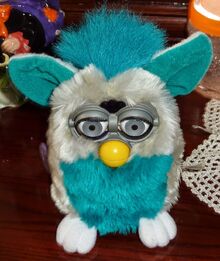 Information
Green Bean is the name given to a Generation 8 Furby, only found in Mexico, along with all of the other generation 8 furbys. This Furby is similar to the Banana Peel Furby, except it has a almost turquoise green color in place of the yellow on Banana Peel.
Trivia
This Furby goes well with the Banana Peel Furby due to their similar design and color.
Ad blocker interference detected!
Wikia is a free-to-use site that makes money from advertising. We have a modified experience for viewers using ad blockers

Wikia is not accessible if you've made further modifications. Remove the custom ad blocker rule(s) and the page will load as expected.