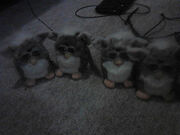 Church Mouse is the name given to a Generation 1 1998 Furby. It has a mane. Its fur is subtly striped in a mix of colors, including Dark and Light Grey, Black, and White. It's very similar to the Wolf Furby, also released in this generation.
Trivia
One of the factories producing Furbys had a lot of church mouse fur and yellow tummy fur so they made the now rare "Sunrise Furby".
This Furby is the same as the wolf Furby, as it uses the same body fur, but it has white belly and mane fur.
Ad blocker interference detected!
Wikia is a free-to-use site that makes money from advertising. We have a modified experience for viewers using ad blockers

Wikia is not accessible if you've made further modifications. Remove the custom ad blocker rule(s) and the page will load as expected.