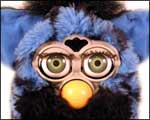 Blue Turtle is the name of a Furby released in Generation 6. It was first manufactured in December of 1999. It has a tail. It was somewhat popular, and due to being released just before christmas, many children recived this furby, and some of the other furbys from Generation 6. Therefore, there are still a few in circulation, yet it is moderately hard to find. The rare silver eyed version is more hard to find, only been spotted as one of RowanCunningham's Furbies and in the Gremlins Gizmo commercial.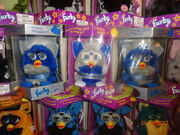 Trivia
This Furby is sometimes referred to as the spider web Furby.
Videos
Ad blocker interference detected!
Wikia is a free-to-use site that makes money from advertising. We have a modified experience for viewers using ad blockers

Wikia is not accessible if you've made further modifications. Remove the custom ad blocker rule(s) and the page will load as expected.