Eidolon Funny (Full name: Eidolon Funny Storyteller) otherwise known as Clever Furby (according to the Chinese version of the toy) is a wannabe Furby.
It has a plastic shell unlike the 2012 Furby, possesses a phone-like tummy and has ears made from either silicone or rubber. It's tummy has several phone-like number buttons that you can press for a few different stories and copyrighted songs. Its eyes light up and its ears change color when they light up. The can imitate anything you say, too. The boxes of some Eidolon's have a picture of a baby Eidolon (or Furbling) hatching from an egg on a phone though there is no app for this toy. The box art work for the English version of the toy plaigarises most of the box art of a Furby boom while the Chinese version plaigarises some of the box art for the 2012 Furby's. They may come in pink, blue, yellow, or green.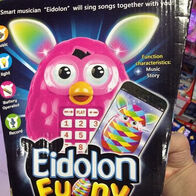 Ad blocker interference detected!
Wikia is a free-to-use site that makes money from advertising. We have a modified experience for viewers using ad blockers

Wikia is not accessible if you've made further modifications. Remove the custom ad blocker rule(s) and the page will load as expected.