Adopt A Furby is the largest Furby fansite in the world. It has over 5000 registered members, several topics and more. It was launched in 2006. 
Hub Page
The hub page is the launch page for AAF. It has been shown in 2 different forms.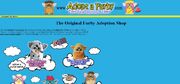 End 
In early 2011, AdoptAFurby.com's adoption center was closed because Rob moved on and got a family. This was seen in a 2012 post: "I wish I could be into what I am into..but I can't because of my wife." Rob stated.
Ad blocker interference detected!
Wikia is a free-to-use site that makes money from advertising. We have a modified experience for viewers using ad blockers

Wikia is not accessible if you've made further modifications. Remove the custom ad blocker rule(s) and the page will load as expected.